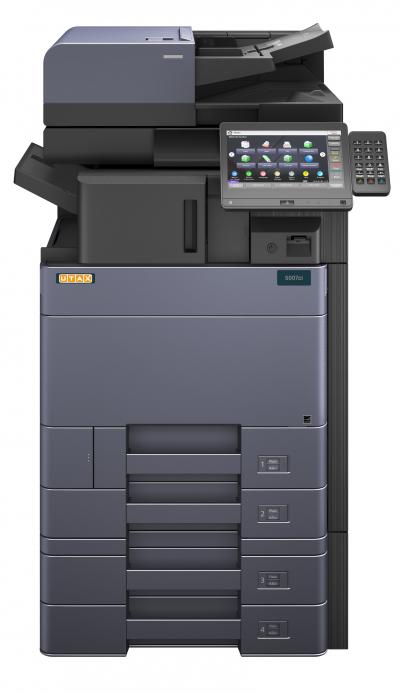 UTAX 5007ci
Novembre 24, 2020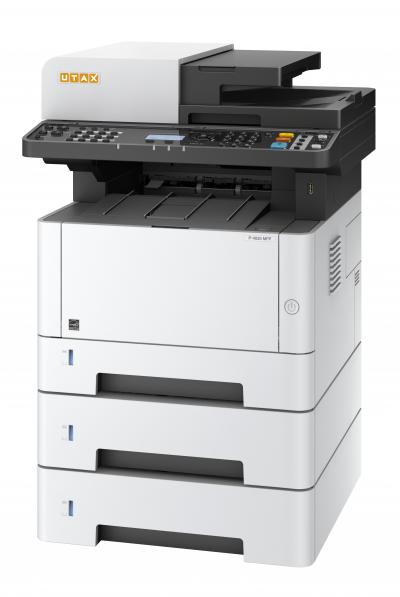 UTAX P-4020 MFP
Novembre 24, 2020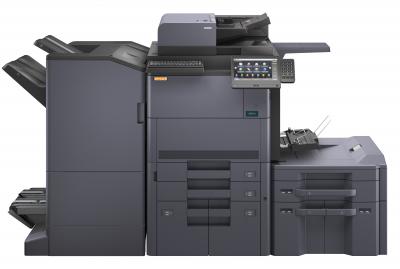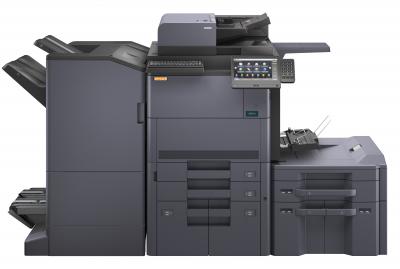 UTAX 8307ci
SPECIFICHE TECNICHE
General
Type Console unit
Function Copy, print, scan, optional: fax
Print technology Laser colour and b/w
Original format max A3 from platen glass
Original feeder Dual scanner with ultrasonic sensor for multi-feed detection (A6R-A3, capacity: 270 sheet A4, paper weight 35-220 g/m² [DIN A5R-DIN A3])
Copy/print speed max 70 A4 pages/min and max 35 A3 pages/min in colour and max 83 A4 pages/min and max 41 A3 pages/min in b/w
1st page (Copy/Print) Colour: 5.9/6.1 seconds*, b/w: 4.8/4.9 seconds*
Warm-up time 44 seconds
Copy resolution 600 x 600 dpi
Greyscales 256
Paper feed 2 x 500 sheet universal cassettes (A5R-A3+ [max 305 x 457 mm]), 2 x 1,500 sheet large capacity cassette (A4), 150 sheet multi-bypass (A6R-A3+, Banner [305 x 1,219 mm]), A3+ only for printing
Paper weights Universal cassette 60-256 g/m², multi-bypass 60-300 g/m², duplex 60-256 g/m²
Paper output 100 sheet A4 (upper tray), 250 sheet (lower tray) with Copy tray type D
System memory 4.5 GB RAM, 8 GB SSD/320 GB HDD**
Continous copying 1-9,999 copies
Zoom 25 %-400 % in steps of 1 %
Functions Adjustable capacitive colour touch screen (10.1 inch), duplex, 1,000 management codes, skip blank pages, Trusted Platform Module (TPM), secure boot and run time integrity check, etc.
Dimensions/Weight
Dimensions 1,234 x 750 x 822 mm (H x W x D)
Weight approx. 182 kg
Environment
Mains voltage 220/240 V, 50/60 Hz
Power consumption approx. 2,400 W max, approx. 1,350 W in operation, approx. 140 W in stand-by mode, approx. 0,7 W in sleep mode
Safety GS/TÜV, CE
Print System
Type Integrated within the system
Print format A6R-A3+
Print resolution max 1,200 x 1,200 dpi
Processor Freescale QorIQ T1042 (Quad Core) 1.2 GHz
Interfaces USB 2.0, 10/100/1000BaseTX, USB Host, NFC
Network protocols TCP/IP, Net BEUI
Operating systems Windows 7/8.1/10, Server 2008/2008 R2/2012/2012 R2/2016/2019, Novell NetWare***, Linux, Mac ex OS 10.9
Emulations PCL6 (5c, XL), KPDL 3 (PostScript 3 compatible), XPS, PRESCRIBE IIc
Functions USB direct printing, PDF/XPS direct printing, IPsec, SNMPv3, printing of e-mails, private printing, barcode printing, Mobile Print (Android/iOS)/Apple AirPrint, Google Cloud Print
Scan system
Scan type CCD colour and b/w
Scan format max A3
Scan speed max 120/220 (simplex/duplex) A4 originals/min in colour and b/w (300 dpi)
Scan resolution 200 dpi, 300 dpi, 400 dpi, 600 dpi
Scan mode Photo, text, photo/text, OCR
File types TIFF, PDF, PDF/A, high compression PDF, encrypted PDF, JPEG, XPS, Open XPS
Interface 10/100/1000BaseTX
Network protocol TCP/IP
Operating systems Windows 7/8.1/10, Server 2008/2008 R2/2012/2012 R2/2016/2019
Functions Scan to SMB, scan to e-mail, scan to FTP, scan to USB, TWAIN scan, WIA scan, SMTP authentication, LDAP
Optional fax system 12
Compatibility Super G3
Original format max A3
Modem speed 33.6 kbps
Transmission speed 3 seconds or less using JBIG
Compression method JBIG, MMR, MR, MH
Fax resolution Standard (200 x 100 dpi), fine (200 x 200 dpi), super fine (200 x 400 dpi), ultra fine (400 x 400 dpi), 600 x 600 dpi
Fax memory 170 MB
Operating systems Windows 7/8.1/10, Server 2008/2008 R2/2012/2012 R2/2016/2019
Functions Network fax driver, automatic redialling, delayed transmission, max 2 fax kits for parallel transmission and reception
*Depending on operating status.
**For copy, print, scan, fax.