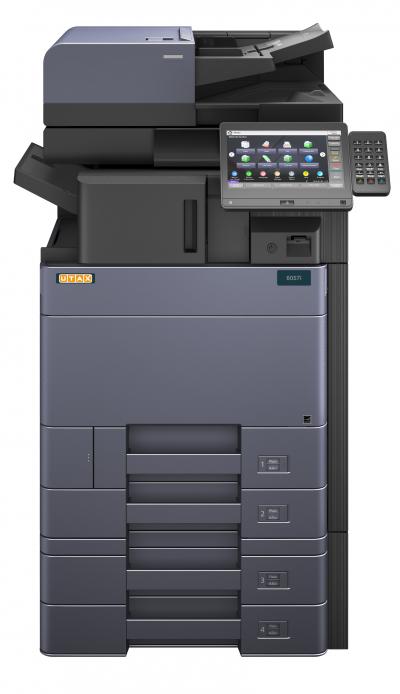 UTAX 6057i
Novembre 24, 2020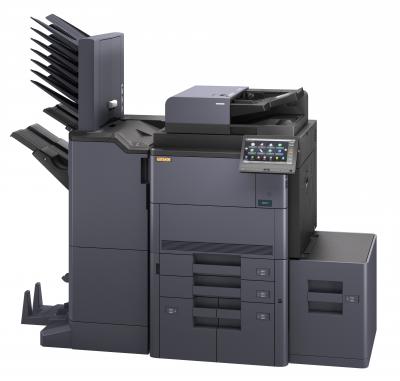 UTAX 8057i
Novembre 24, 2020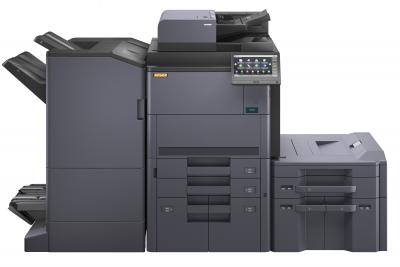 UTAX 7057i
SPECIFICHE TECNICHE
GeneralTypeConsole
FunctionCopy, print, scan, optional: fax
Print technologyLaser b/w
Original formatmax A3 from platen glass
Original feederDual scanner with ultrasonic sensor for multi-feed detection (A6R-A3, capacity: 270 sheet A4, paper weight 35-220 g/m² [DIN A5R-DIN A3])Copy/print speedmax 70 A4 pages/min and max 35 A3 pages/min1st page (Copy/Print)4.2/4.8 seconds*Warm-up time30 seconds
Copy resolution 600 x 600 dpiGreyscales256Paper feed2 x 500 sheet universal cassettes (A5R-A3+ [max 305 x 457 mm]), 2 x 1,500 sheet large capacity cassette (A4), 150 sheet multi-bypass (A6R-A3+,Banner [305 x 1,219 mm]), A3+ only for printingPaper weightsUniversal cassette 60-256 g/m², multi-bypass 60-300 g/m², duplex 60-256 g/m²
Paper output100 sheet A4 (upper tray). 250 sheet (lower tray) with Copy tray type DSystem
memory4.5 GB RAM, 8 GB SSD/320 GB HDD**Continous copying1-9,999 copies
Zoom25 %-400 % in steps of 1 %
FunctionsAdjustable capacitive colour touch screen (10.1 inch), duplex, 1,000 management codes, skip blank pages, Trusted Platform Module (TPM), secure boot and run time integrity check, etc.
Dimensions/WeightDimensions1,234 x 750 x 822 mm (H x W x D)Weightapprox. 150 kgEnvironmentMains voltage220/240 V, 50/60 HzPower consumptionapprox. 2,400 W max, approx. 1,100 W in operation, approx. 110 W in stand-by mode, approx. 0.7 W in sleep modeSafetyGS/TÜV, CEPrint
SystemTypeIntegrated within the systemPrint formatA6R-A3+Print resolutionmax 1,200 x 1,200 dpi
ProcessorFreescale QorIQ T1042 (Dual Core) 1.4 GHz
InterfacesUSB 2.0, 10/100/1000BaseTX, USB Host, NFCNetwork protocolsTCP/IP, Net BEUI
Operating systemsWindows 7/8.1/10, Server 2008/2008 R2/2012/2012 R2/2016/2019, Novell NetWare***, Linux, Mac ex OS 10.9EmulationsPCL6 (5c, XL), KPDL 3 (PostScript 3 compatible), XPS, PRESCRIBE IIeFunctionsUSB direct printing, PDF/XPS direct printing, IPsec, SNMPv3, printing of e-mails, private printing, barcode printing, Mobile Print (Android/iOS)/Apple AirPrint, Google Cloud PrintScan systemScan typeCCD colour and b/wScan formatmax A3Scan speedmax 120/220 (simplex/duplex) A4 originals/min in colour and b/w (300 dpi)
Scan resolution200 dpi, 300 dpi, 400 dpi, 600 dpiScan modePhoto, text, photo/text, OCRFile typesTIFF, PDF, PDF/A, high compression PDF, encrypted PDF, JPEG, XPS, Open XPSInterface10/100/1000BaseTXNetwork protocolTCP/IP
Operating systemsWindows 7/8.1/10, Server 2008/2008 R2/2012/2012 R2/2016/2019FunctionsScan to SMB, scan to e-mail, scan to FTP, scan to USB, TWAIN scan, WIA scan, SMTP authentication, LDAPOptional fax system 12CompatibilitySuper G3Original formatmax A3Modem speed33.6 kbpsTransmission speed3 seconds or less using JBIGCompression methodJBIG, MMR, MR, MHFax resolution
Standard (200 x 100 dpi), fine (200 x 200 dpi), super fine (200 x 400 dpi), ultra fine (400 x 400 dpi), 600 x 600 dpiFax memory170 MBOperating systemsWindows 7/8.1/10, Server 2008/2008 R2/2012/2012 R2/2016/2019
FunctionsNetwork fax driver, automatic redialling, delayed transmission, max 2 fax kits for parallel transmission and reception*Depending on operating status.**For copy, print, scan, fax.